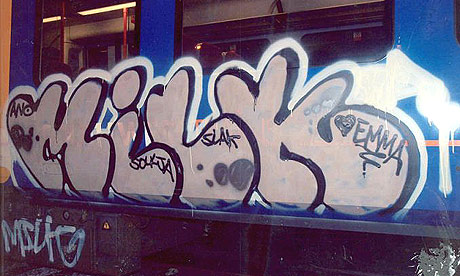 A love-struck graffiti artist who habitually immortalised his heart's desire in paint was jailed for two years today.
For weeks "persistent offender" Raymond Agbegah sprayed trains and stations with massive multi-coloured 3.7m (12ft) banners declaring: "I love Emma".
It was the latest in a series of nocturnal defacement of railway property spanning nearly a decade, resulting in hundreds of thousand of pounds of damage.
But the court also heard that the graffiti artist's recent spate of vandalism had a tragic history.
Richard Gowthorpe, defending, revealed that his client had tried to clean up his act, particularly after his girlfriend, Emma Petts, had given birth to their first child last year.
But following the infant's death, Agbegah "regressed" to his old ways, Gowthorpe said.
Petts is now heavily pregnant and is expecting their daughter in a month, but Agbegah's sentence means it is unlikely he will be at the birth.
Unfortunately for the IT student, Southern Trains, South West trains and Network Rail, was in no mood to sympathise, pointing to their hefty clean-up bill in excess of £32,000.
Armed with his girlfriend's name and Agbegah's trademark tag "milk" - one that led to a conviction for criminal damage eight years earlier – the police soon discovered their culprit.
Chris Stimpson, prosecuting, said when officers paid him a visit they found him snuggled up in bed with the Emma of his graffiti. Helpfully on the bedside table was an envelope decorated with his distinctive "milk" tags.
The 24-year-old, of Streatham, south London, a member of the Streatham-based FV Crew graffiti gang, admitted three counts of criminal damage reflecting his activities throughout last October.
Passing sentence, Judge Martin Beddoe said graffiti was an expensive nuisance, causing "disruption, delay and considerable expense" to the transport authorities and the travelling public.
"Such behaviour calls for a sentence of deterrence to persuade you and others who might be inclined to do so from indulging in this sort of behaviour," he said. "It is done for no better purpose than for your own satisfaction and self advertisement without regard to anyone else."
In a stern rebuke, the judge said his record of 58 previous convictions - a dozen of them for graffiti attacks - left no doubt he was a "persistent offender" who had repeatedly breached a 10-year anti-social behaviour order imposed in 2003 to "curb" his activities.
He was clearly "indifferent" to the effects his behaviour and on others, as witnessed by him breaching police bail following his arrest for his latest offences.
"If you want to live outside the bounds of ordered society then you can live outside that society for a while. It is a matter for you how much you value your freedom and it is a matter for you whether you stop this cycle of offending. If you don't the sentences will just get longer," warned the judge.
"You are frankly getting too old for this. And what you have done and continue to do does not warrant the love and the care Miss Petts has sought to bestow on you."
The court heard Agbegah's various tags were found across a large swathe of the rail network in London with Streatham, Streatham Hill and Norbury stations, and rail depots at Norbury, North Dulwich, Strawberry Hill and Parsons Green, on his shopping list of targets.
Stimpson said Southern Trains was the worst hit by the defendant's crimes, suffering no less than £23,650 damage in just four weeks - with £8,500 of that carried out on a single night.
Network Rail was the next worst affected with a £4,500 bill, while South West Trains had to spend £4,000 cleaning up after him.
Taken from: http://www.guardian.co.uk/uk/2008/mar/05/ukcrime1